Michigan Ballet Theatre will present Sleeping Beauty, March 10-12, 2017 at Avondale Performing Arts Center
For information about show times and tickets, please contact Rochester School of Dance, home of Michigan Ballet Theatre, at 248-652-3117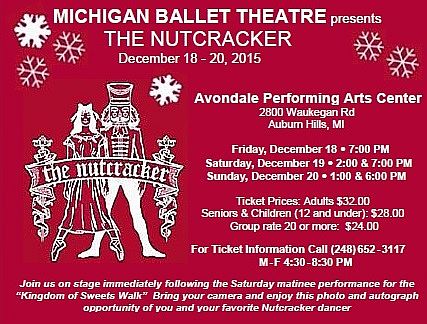 MICHIGAN BALLET THEATRE announces their 2015-2016 season!
Michigan Ballet Theatre brings Nutcracker magic to Avondale Performing Arts Center ……………December 18, 19 & 20
Michigan Ballet Theatre will present the legendary Christmas classic The Nutcracker on December 18, 19 & 20 at Avondale Performing Arts Center, located within Avondale High School, 2800 Waukegan Rd, Auburn Hills, MI. This beloved holiday ballet, with music by Peter Ilich Tchaikovsky, is the highlight of Michigan Ballet Theatre's season and promises to delight audiences of all ages.
MBT will offer five performances of The Nutcracker at Avondale High School's Performing Arts Center on Friday, Saturday, & Sunday, Dec. 18, 19 & 20.  Performance times are 7:00 PM on Friday, 2:00 & 7:00 PM on Saturday and 1:00 & 6:00 PM on Sunday.
Ticket prices are $32.00 for Adults, $28.00 for Seniors and Children (under 12), and $24.00 for groups of 20 or more. Advance tickets purchased at the Rochester School of Dance and on Amazon.com will be offered at a 50% off discount.
Advance tickets may be purchased at the Rochester School of Dance, 1800 S. Livernois, Rochester, MI 48307 or online at Amazon.com/local beginning November 2. To order advance tickets by mail or for more information regarding performances, please call (248) 652-3117 (M-F 5:30-8:00 PM, Sat 11-3 PM)